Analytics Portal
Improve user experience for your most impactful dashboards
Our Tableau Premium Portal application turns your collection of dashboards into an easy to use interface with snappy navigation that dramatically improve user adoption and usability!
Our solution is perfect for Customer seeking to provide end users with a more curated experience than that of Tableau server default portal.

Whether needed for external client facing applications with integration to Tableau or for internal Tableau content to support key users such as sales teams and executive, our portal solution will elevate your user's experience.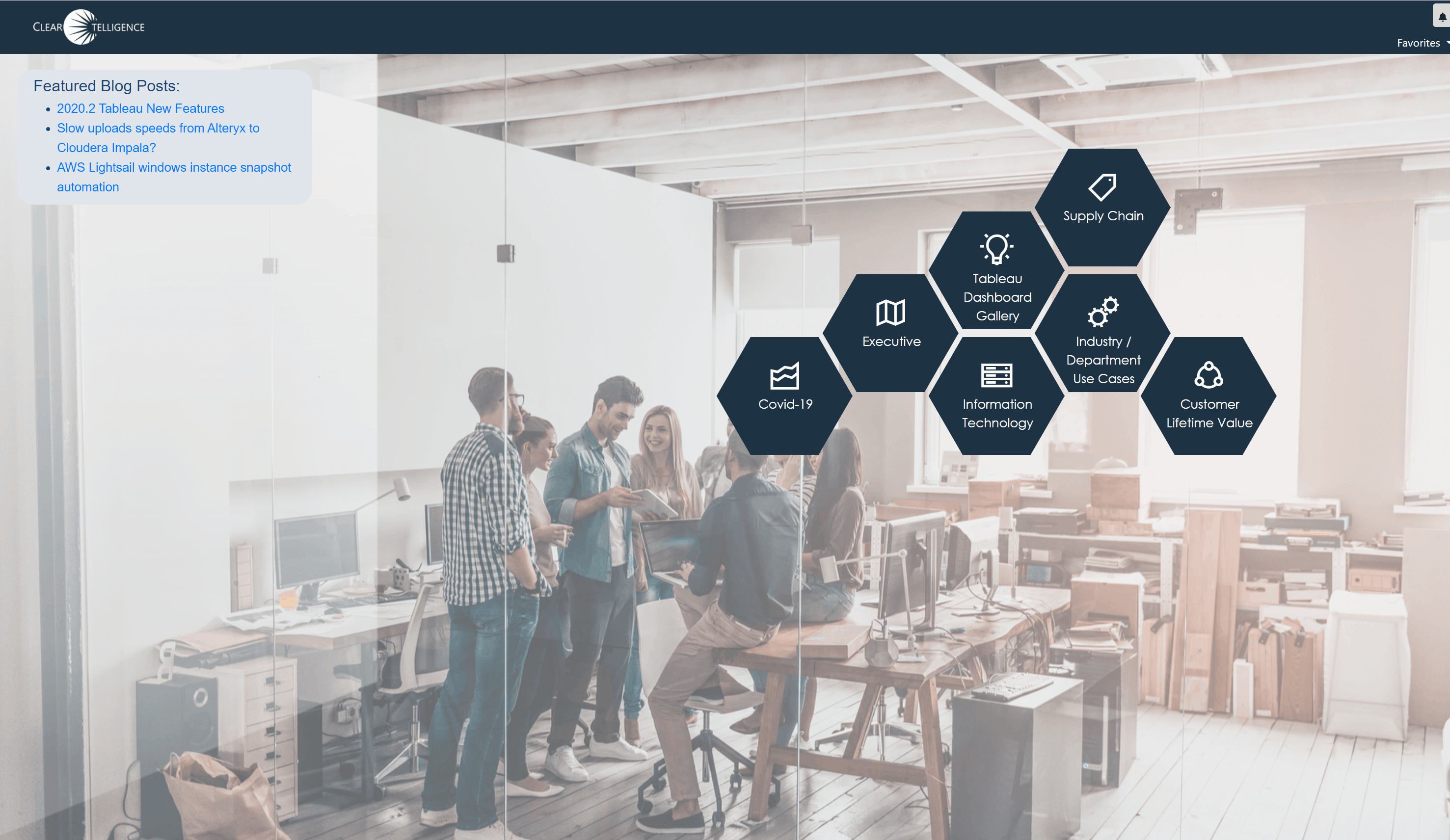 We built our solution from the ground up by our seasoned application development team along with our data visualization consultants who have a pulse on the Tableau community and the demand for consuming Tableau dashboards and reports in an intuitive portal style user experience.

The portal helps remove the noise of too much content in typical Tableau server with a more curated focused view that improve user experience with a customized and intuitive portal interface, more control over report and dashboard caching & performance, and improve content security, mobility, and extensibility.

The portal has a landing page for quick navigation to dashboards or other links. Also features a user friendly navigation menu to make it easy to toggle between dashboards
A key feature is the ability to customize topic and subtopic for dashboard organization. Also provides the ability to dynamically change menus based on user access

Ability to apply filters across Tableau workbooks leveraging portal filters and parameters. This feature has helped improve dashboard design by allowing separate workbooks to operate as if all dashboards are in one workbook.
The portal application contains a simple to use administration consoles allowing to setup the environment and manage security. Authentication schemes ranging from Tableau only, to trusted authentication, to SSO/SAML
The portal allows for designing a custom landing page as well as providing the ability to change color schemes with easy to change parameter settings
One of the most sought after features is the ability to cache dashboards behind the scenes to provide instant toggling between dashboards – eliminating the reloading of dashboard.
Central Web-Based Interface
The application interface was designed for simplicity and ease of use via a web-based application that is easy to deploy and maintain.



The application points to your secure Tableau server to connect to your report & dashboard content by leveraging Tableau's javascript API integration within the application framework.


Contact us to arrange a demo or discuss how you can use our Analytical Portal to improve user experience.